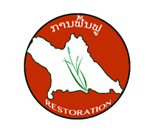 I fell in love with the tiny, distant country of Laos about twelve years ago, when I first visited on vacation. Laos is a sliver of mountain and river, with Vietnam on one side and Thailand on the other, Cambodia to the south and China and Myanmar to the north. I was captivated by the sounds, the smells, the scenery, and the warmth of the people I met… it was the appreciation of a tourist, but a curious one. Over many return visits I began to see and learn more.
One thing I learned was that the Vietnam War is not over, at least not there.  Laos is the most heavily bombed nation on earth; during the Vietnam war, we dropped a planeload of bombs every eight minutes, twenty four hours a day, for nine years, on a country with a population smaller than New York City. Most of those bombs were cluster munitions, and about a third of them didn't detonate. There are about 80 million live bombs on and in the ground, each primed and ready to kill a child, a farmer, or anyone else who comes too close.
Across Laos, teams of experts work to clean up these bombs. The work is slow and painstaking, and huge areas remain to be cleared. But it's exciting work, and it's achievable: it may take decades to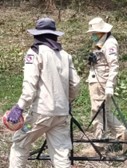 clear the whole country, but a village can be made safe in a month.  That's my passion and my mission, and my recent sabbatical brought it to fruition: along with my spouse Darreby, I formed Restoration Laos to sponsor a bomb clearing team near the Vietnam border. Mine Action Team 53 is made up of fourteen Lao women, trained and supported by Mines Advisory Group (which has experience all over the world). The team studies military records, interviews elders who remember the bombs falling, scours the ground with metal detectors, and blows up or defuses the harvest of bombs they unearth. Together they will restore safety, peace of mind, and economic potential to over a thousand adults and children in their first year.
The Restoration Laos team is funded until April 2023. Now that sabbatical is over, my next challenge is to raise about $130,000 so it can keep working beyond this first year. This pays the salaries for the team members, keeps their vehicles running, and buys the explosives they use to destroy bombs as they find them.
I am hugely grateful to the Diocese of Maine for the sabbatical leave that let all this get started (and begin to learn the Lao language!); and even more excited about the interest so many are showing in becoming further involved.  
If you would like to learn more about their project or to donate, please visit restorationlaos.org and use the white box on the donate page. Or send a check payable to MAG America (note "Restoration Laos" on memo line) to MAG America, 1776 K St. NW Suite 700, Washington, DC 20006.