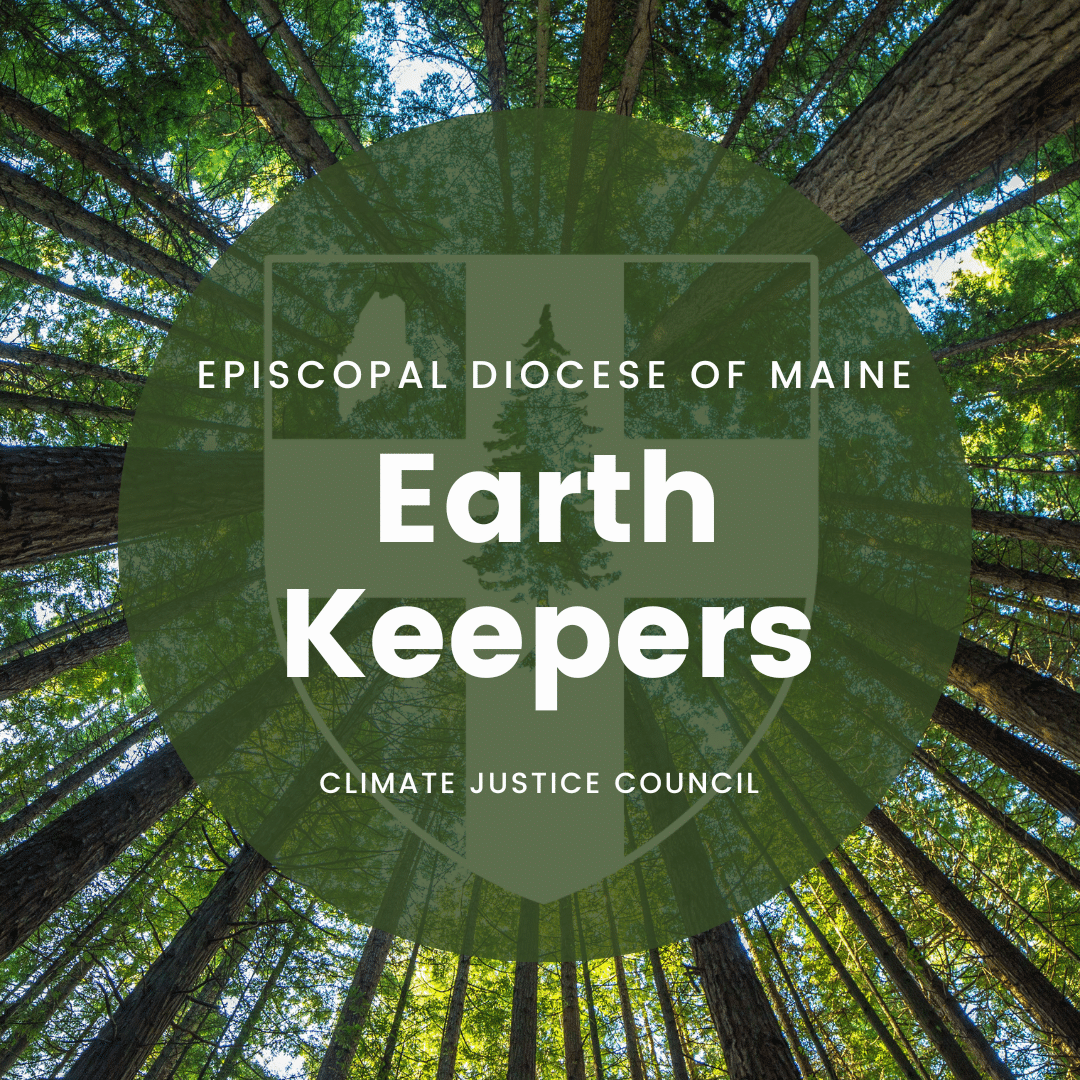 Aroostook Cluster's Covenant to Care of Creation
St. Paul's, Fairfield
Earth Keepers from our cluster of churches; St. Paul's, Good Shepherd in Houlton, St. John's in Presque Isle, are planning a combined gathering in September.
The cluster Earth Keepers are also in discussions in hosting a series of three presentations throughout the winter with guest speakers in order to broaden and provide education for our congregations concerning the breadth of Climate Justice.
Hereat St. Paul's, I am pleased to report that once we received the initial information concerning this initiative, (we are a year behind), we had our parishioners complete a survey. We wanted to take the pulse of the church as well as individuals. The survey had only three questions:
"What concerns you most aboutthe earth's future?"
"What is ONE thing I will do to live more lightly on the earth?"
"What is ONE thing our church can do to reduce our impact on the earth?"
The results and voices were loud and clear: Our parishioners wanted use of less or no plastic, and to reduce, reuse, recycle. In keeping with these results, we had a volunteer "NO Mow May." As of August 13, we will be using only ceramic dishes for our well-attended weekly coffee hours; NO plastic whatsoever. I am most pleased to move to 'no plastic' at our Sunday gatherings at St. Paul's as a beginning step in this important endeavor.
Prior to the commencement of the Climate Justice initiative, we made several changes:
Took the chicken barbecue dinner that we hold every summer which is highly popular from Styrofoam to cardboard packaging.
Raised money and purchased a commercial dishwasher for our local Presque Isle homeless shelter. The shelter was using all plastic coated paper plates, plastic forks, spoons, etc. Not only does eating off ceramic dishes give our homeless brothers respect and dignity, it eliminates the use of plastic at all daily meals.
Mary Warren
Church of the Good Shepherd (COGS) in Houlton
As part of the Aroostook Cluster Earth Keepers team, our Good Shepherd Earth Keeper team is pleased to collaborate across the cluster on events such as our Fall Fun Day which will have a Creation Care theme and educational events later on this year. Our team has fun working together and many heads create lots of good ideas.
COGS also participated in the parish survey to identify environmental concerns and consider how we can live more gently on the earth both as individuals and as a church community. Climate change was the biggest concern, in particular impacts on poor and indigenous communities. Concern about pollution and trash and waste management also received multiple votes.
Individuals felt that recycling was an important thing to do. Other ideas included eating local foods and having meatless meals, using less plastic and composting. Key takeaways on what our church could do included recycling, reviewing our heating and lighting efficiency and reducing plastic use. We have set up a container in the church where people can leave their bulletins and other paper to be recycled. In order to reduce our generation of trash and plastic waste we ask everyone to bring their own reusable plate, cup, utensils and napkins to our monthly coffee hour which has been quite successful so far. We are fortunate to have a close relationship with our vestry and building and grounds committee and we will be working together on strategies to reduce our energy use.
Just a bit of background – I represent the congregation of St. John's, Presque Isle and am the Admin. Assistant for the Aroostook Cluster so my job is intertwined. St. John's is a bit behind in participating in the Earth Keepers group because our Sr. Warden is ill and she had the information. I only learned in April what is taking place here in the Cluster. I am working with Mary Warren from St. Paul's, Fort Fairfield and Christy Fitzpatrick from Church of the Good Shepherd in Houlton. I appreciate these two gals because they are helping me get up to speed. St. John's has not done the initial survey that was sent out but I plan to do that very soon to get some feedback.
"St. Paul's in Fort Fairfield and Church of the Good Shepherd in Houlton as well as St. John's in Presque Isle are planning a Fall Fun Fest Day on September 17 th . The afternoon of festivities will be centered around making folks aware of the things we can do to keep our earth greener. The nametags will be in the shape of a pine tree and the words "Think Green" printed at the top; I have purchased several cloth bags stating "Mother Earth thanks you" as giveaways and the children will be making a craft entitled "Think Green" with flowers in a flower pot and the words "reuse, reduce and recycle). In addition we are going to do an activity with various items such as a glass bottle, a piece of wood, a styrofoam cup, etc. and ask people to rate what they think the impact of these items has on our environment. The children will also decorate real pumpkins, color a picture with the words "fall for Jesus, He Never Leaves" and various leaves to color. Our Earth Keepers groups will meet on a regular basis and are planning various activities throughout the year, as individual churches and joint ventures."
Barbara Aiken