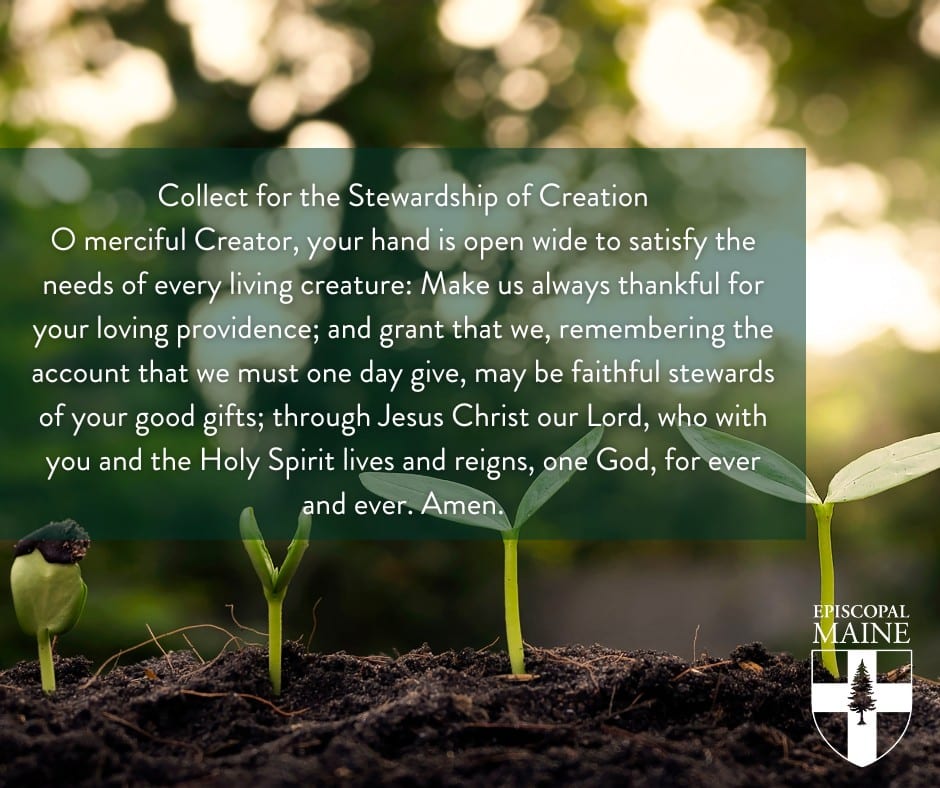 How should parishes celebrate Earth Day (April 22) and Earth Week (April 17-23) this year? The Diocese of Maine's Climate Justice Council suggests that we look to the Wabanaki experience as they respond to the climate crisis. The Penobscot, Passamaquoddy, Maliseet, Mi'kmaq and Abenaki tribes have for 10,000 years treated each day as an Earth Day — a day for honoring and protecting Creation before all else. As Maliseet chief Clarissa Sabattis recently stated at the Legislature's State of the Tribes Day on March 16, "We do not own the land; we only borrow it from our future generations." Theirs is the example that can prepare our congregations for a timely response to the threats and injustices that climate change is bringing.
In addition to advocating for cleaner water, green energy and for protection from sea level rise, the Wabanaki also teach us that there is a spiritual dimension to climate change activism. The Penobscot express reverence for Katahdin for example each year on Labor Day weekend by holding the K100 event. Wabanaki citizens paddle, walk, bike and run at various stages from the Penobscot reservation on Indian Island one hundred miles along the Penobscot River to the base of Mt. Katahdin, where they finally gather for prayer and ceremony. This annual pilgrimage captures something essential about the Wabanaki relationship to Creation: experiencing nature as sacred, not classifying or thinking about it, connects us most strongly to Creation and to the Creator. Our congregations could seek similar activities on Earth Day: a shore-front trash collection, a church-yard cleanup, a meditative hike, or a visit to Pemaquid Lighthouse to pray as dawn arrives.
Wabanaki activism also has a political context from which we can learn. Today the highest priority for the Wabanaki Nations is to re-frame their dealings with the State of Maine to achieve a more just and respectful relationship. The current session of the Legislature faces recommendations from a Task Force on changes to the 1980 Maine Indian Claims Settlement Act. These changes would recognize the inherent sovereignty of the Wabanaki Nations and enable them to have the same legal status as 574 other federally recognized tribes, a status from which they have been excluded since 1980. The Diocese of Maine has adopted Resolutions at the Conventions of 2020, 2021 and 2022 that endorsed, by large margins, enactment of this sovereignty legislation. Passage of such legislation would restore aspects of self-governance and autonomy that Wabanaki Nation sexercised for centuries long before Maine ever came into existence. As our congregations celebrate Earth Week this year, let us honor this drive for tribal sovereignty that will put an end to a long history of injustice. To express support for LR 1184 sponsored by Speaker of the House, Rachel Talbot Ross, we would do well to contact our legislators and Governor.
One final aspect of the Wabanaki response to Creation bears mention — the importance of art and expression. Darren J. Ranco, a citizen of the Penobscot Nation and Chair of Native American Programs at the University of Maine at Orono, recently wrote an opinion piece in the Bangor Daily News emphasizing the importance of the arts in inspiring the community, and especially indigenous people and youth, to address climate change. Art shows currently underway in the Portland area include one at the Maine Historical Society called Code Red: Climate, Justice, and Natural History Collections. This brings together natural history collections and the works of Indigenous artists as they explore climate change.
Area congregations could make a point of visiting such exhibits. Dr. Ranco urged all Mainers to do the right thing and become part of the climate response. "When artists are empowered as activists, we can go a long way in solving an existential problem. Faced with a once-in-a-generation climate crisis, Maine must lean on its youngest generation to lead us all forward." (Bangor Daily News, Opinion, February 13, 2023)
The Climate Justice Council calls on our diocese to heed the example of our Wabanaki neighbors and face the challenges of climate change with art and creativity, in the political arena, and by experiencing awe and wonder as we step into the beauty of God's creation.
Download a copy of this message to share with your congregation here.
Learn more and find additional resources: