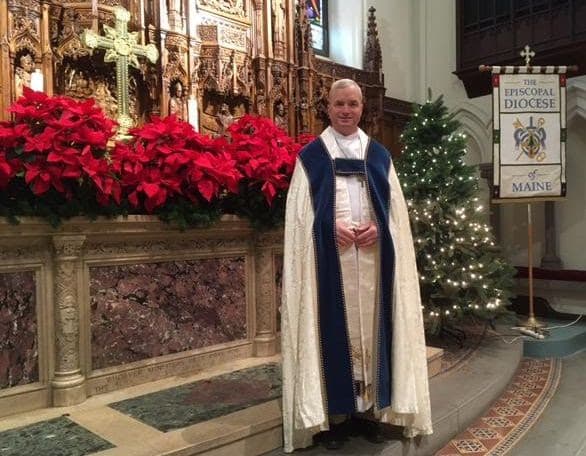 The Very Rev. Dr. Benjamin Shambaugh, Dean of St. Luke's Cathedral will complete 18 years of service to the Cathedral Church of St. Luke, the City of Portland, and the state and Episcopal Diocese of Maine at a 10am service on January 29, 2023. A celebration of his ministry at St. Luke's Cathedral 143 State Street, Portland at 6 pm on February 4. He will take three months of transition time and begin a new position as rector of St. Luke's Episcopal Church in East Hampton, NY on May 1.
Dean Shambaugh has been an activist for marriage equality and LGBTQ rights, a leader in caring for the poor, immigrants, asylum seekers and those in need, a fighter for justice, and a passionate supporter of music and the arts on local, state and national levels. He served on the board of Preble Street for 15 years and helped greatly expand the work of Preble Street, St. Luke's food pantry and St. Elizabeth's Jubilee Center. He was known for washing the feet of the homeless at the Preble Street Resource Center, giving "ashes to go" at Monument Square, marching down Congress Street with rainbow colors and a clergy collar in the Pride Parade, speaking at rallies and other events, participating in multi-faith thanksgiving services and other gatherings, offering comforting words in french to New Mainers, and playing Christmas carols on his tuba outside St. Luke's Cathedral during the State Street stroll. He was known for his powerful sermons and was a popular summer speaker at the Temple in Ocean Park
He stood up for issues of social justice on local and state levels, was honored to give the invocation for inaugurations of consecutive mayors in Portland and South Portland, and, as shown in the 100,000 homes campaign, was a bridge builder who brought diverse groups together when work needed to be done. He describes a cathedral as a beacon of hope and light and a catalyst for change. Jeremiah 29:7 is quoted as part of the signature of his email,  "Seek the welfare of the city where I have sent you.. and pray to the LORD on its behalf, for in its welfare you will find your welfare"
An ACS Chaplain and Branch Chief for the Coast Guard, he served Coast Guard stations throughout Maine, New Hampshire and Vermont, with oversight of chaplains throughout New York and New England. For this work, he has received the Auxiliary Achievement Medal, the Sustained Service Award, the Annual Operation Service Award, the Humanitarian Award.
A tuba player for the Maine Pops, Chandler's Band, and the Italian Heritage band, he performed in parks, nursing homes, and other venues around the state, including the Fryeburg Fair, the Yarmouth Clam Festival, Porchfest and the Maine bi-centenniel parade. He helped St. Luke's continue its role as a center for music and the arts, hosting Renaissance Voices, the Portland Rossini Club, The Bach Virtuosi, St. Mary's Schola, two Shakespeare companies, the Kotchzmar Christmas, First Friday art walks and many other groups and events.
Dean Shambaugh represented the Episcopal Diocese of Maine at five consecutive General Conventions, and was honored to vote for Maine in favor of marriage equality throughout the church. He served two terms as President of the Standing Committee of Maine, oversaw the ordinations of two bishops, was deeply involved with diocesan youth ministry and the diocesan summer camp, participated in many committees and Episcopal and multi-faith groups, and taught as an adjunct at Bangor Seminary.
During his time at St. Luke's Cathedral, Dean Shambaugh presided at hundreds of baptisms, weddings and funerals, oversaw a great increase in St. Luke's outreach efforts in Portland and the building of a school in Haiti. He helped St. Luke's lead a $1.5 Million Capital Campaign which allowed major repairs to the cathedral building as well as the creation of a columbarium, labyrinth, and professional level kitchen. Before coming to Maine, he served as rector of St. John's Church and School in Olney, Maryland, Canon Pastor of the American Cathedral in Paris, and Curate of Church of the Holy Spirit in Lake Forest, Illinois. He has degrees from Northwestern University, General Seminary, and Seabury Western Seminary, and a congregation in Barbados.
His wife, Shari Shambaugh, an artist and Ed Tech at South Portland High School, will join him after the school year is over. His daughter, Kate Shambaugh (26) works for the Parks Conservancy of the City of Portland and will remain in Portland. His son, Scott Shambaugh (30) lives and works in Denver.
In his announcement to St. Luke's congregation, Dean Shambaugh wrote "Being with you and serving as the Dean of the cathedral have been a great adventure, a joy, and a blessing that has truly been a high point of my career, my life, and the life of my family. Together we have done God's work in serving the wider community, standing for love and justice, caring for others and ourselves, striving to make sure that all are welcome, and helping people experience God's presence through worship, music, and spiritual growth. Thank you for going on this journey with me. I deeply love Maine. I love St. Luke's and I love you. I will always have a special place for you in my heart."
Contact: The Rev. Benjamin Shambaugh 207 400-7516 [email protected]
St. Luke's Cathedral office: Avery Schott 207 772-5434 [email protected]
Address: 143 State Street, Portland, ME 04101   www.stlukesportland.org