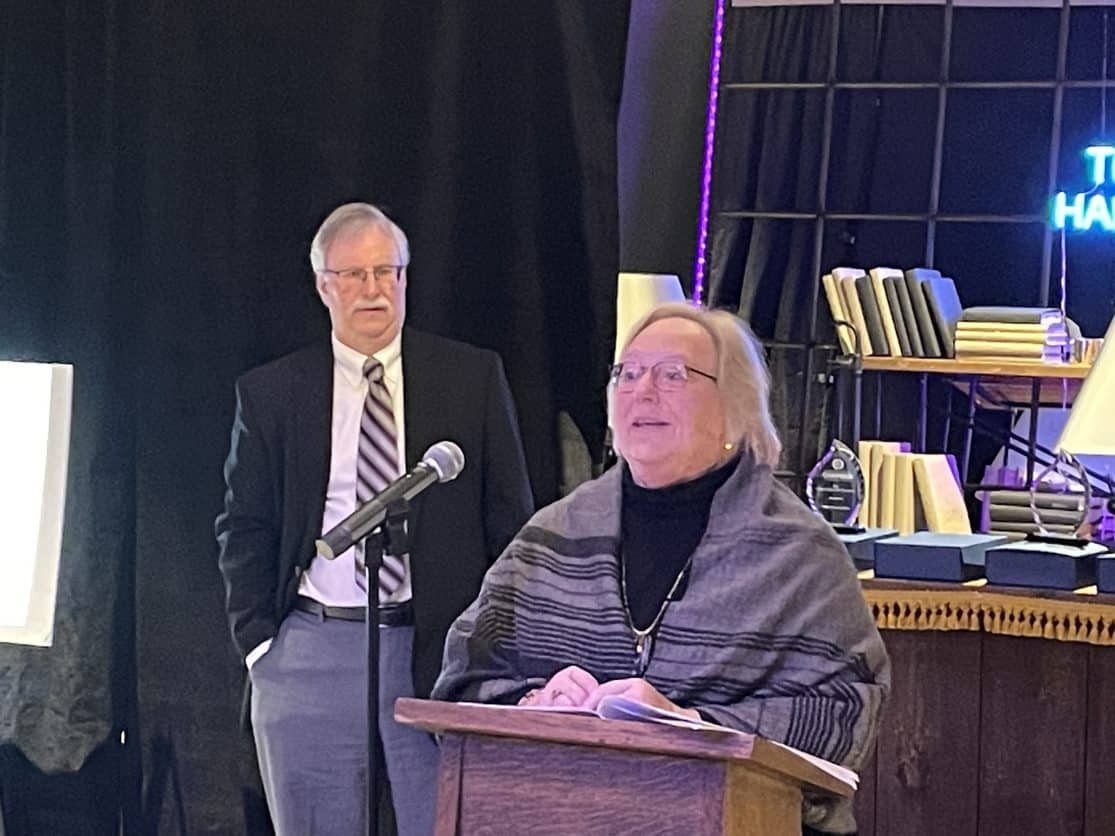 Excerpted transcript of remarks by Bill Kany, son of the award's namesake, from the award presentation
"The criteria is to be a person who has done a great deal to benefit our communities over a duration of at least 10 years.
This year's recipient has done so much to help the people of our area.  One person once said of this individual: 'It is one thing to have a job, a career, it is another to have a vocation and to let something be such an integral part of your life.  She feeds the hungry, clothes the unclothed and loves the unloved.'
On behalf of the Biddeford Saco Rotary Club, I had the privilege of recognizing this person's contributions to the people of our area in the past.  At that time the Chinese proverb, 'Give a man a fish and you feed him for a day.  Teach a man to fish and you feed him for a lifetime.' Struck me as appropriate. The organization in Biddeford known as Seeds of Hope has attempted to capture that proverb and use it to help people in our area for years.  Their mission statement says, 'Seeds of Hope Neighborhood Center partners with our local communities and neighbors to find solutions to poverty and to promote personal growth.' As an example, one of their programs loaned people money for their rental security deposits so they can have a place to live.  It was a simple but brilliant way to get people back on their feet and help them grow their self-esteem.
I frequently like to quote others when giving out awards, because there are so many incredibly gifted people in the world who can help to capture the essence of a person's contributions in an eloquent way that I cannot.  In this case, however, I feel it is best to quote our honoree instead.
When speaking in favor of a program to help alleviate food insecurity our recipient said, 'I could cite scripture; I could cite great poets and thinkers that write about our responsibility to alleviate suffering. I could provide graphs and charts demonstrating the real numbers of those who are hungry in our state. Rather, I would only ask that we call upon our own humanity to discern that to live in this world with integrity we must help those who need assistance to meet basic needs. We can do this if we have the courage to make this choice and the will to make it happen.'
This person for years had the will to help others and the courage to make things happen through Seeds of Hope, an organization that does not happen by itself.  Efforts like Seeds of Hope need leaders with vision and a commitment to the cause.  This year's A. William Kany, Jr. Award winner for years was the driving force behind Seeds of Hope and a person who has clearly dedicated her life to helping those who need a hand.  While she just retired, her efforts require recognition, and they deserve our thanks.
In recognition of committing her life to help others I am proud to give year's Kany Award to the Reverend Shirley Bowen."
Saco Bay News – Bowen Receives Kany Award from Biddeford-Saco Chamber